Join us for the journey of a lifetime...a life changing journey!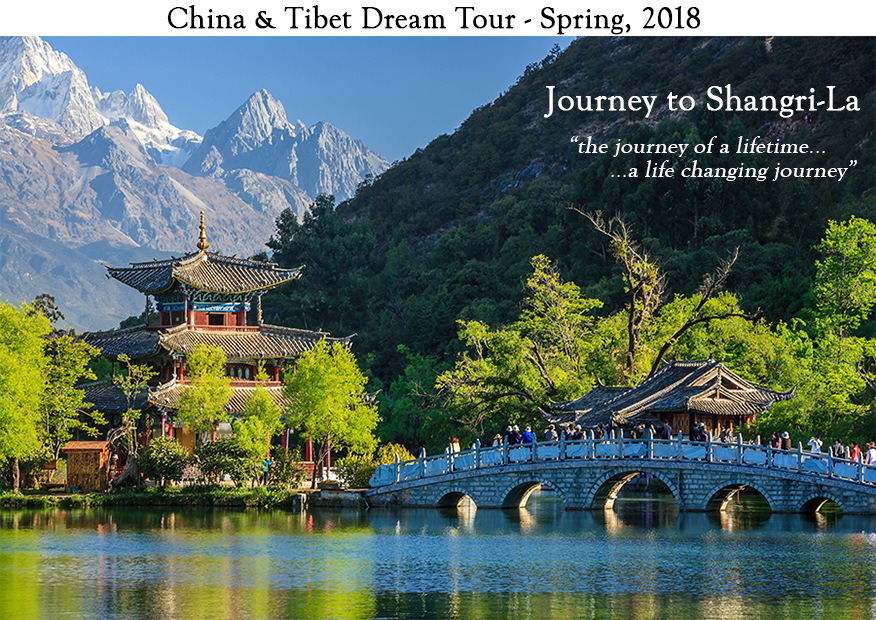 Experience the magic and mystery of Tibet and SW China.

China & Tibet Dream Tour - Journey to Shangri-La 2018 will visit

Chengdu - Ya'an - Shangli - Leshan - Lijiang - Baisha & Shuhe Villages - Lhasa, Tibet
Including UNESCO World Heritage Sites:
Lijiang Old Town, Panda Sanctuary and Leshan Giant Buddha,
Potala Palace & Jokhang Temple in Lhasa, Tibet.
Some say the Journey to find Shangri-La is the most rewarding adventure you will ever make. And once you have fond it - then you may discover it anywhere - in a cup of cafe latte or yak butter tea - or in your own heart!
Mark Johnson and Rebecca Kali will personally lead this tour. We have over 40 years of experience in sharing our passion for China's incredible heritage and cultural sites and teaching Tai Chi, Qigong, Meditation, and Taoist Inner Alchemy - Neigong Practices. A friendly relaxed atmosphere, comfortable lodging, excellent cuisine, and personalized care are hallmarks of our tours.

click here for
Highlights of the China Dream Tour

Spring, 2018
and registration information
Have questions?
call 1-800-341-8895 or 218-365-6330
to speak with a tour leader.
click here to send us an email